Canterbury Road Trauma Award for Public Service
---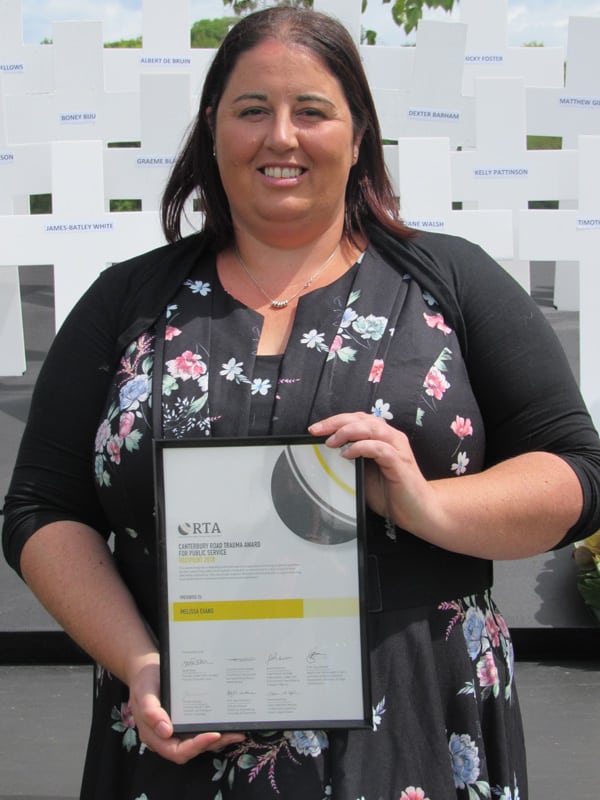 AWARD FOR PUBLIC SERVICE 2018 RECIPIENT: MEL EVANS
After carrying out a significant amount of data collection as Canterbury District Health Board's Trauma Nurse Coordinator, Mel Evans saw a greater need for a better coordination of care for the region's trauma patients.
"Mel discovered that many patients were suffering from multiple problems and they were being looked after by several different specialist teams. She took the initiative and set up a system that got the different departments talking to each other more, which has resulted in more efficient care for our patients," says Canterbury DHB Intensive Care Unit Specialist David Bowie.
Mel says she was pleasantly shocked to hear that she had been given an award for something she sees as part of her everyday role.
"I am very thankful that the work we are doing at Christchurch Hospital has been recognised, as it has led to our patients getting all of the treatment they require sooner and will help us continue to build a world class trauma service," says Mel.
AWARD FOR PUBLIC SERVICE 2017 RECIPIENT: JACK LOWERY
On 26 December, 2016, Jack Lowery responded to a triple fatality accident in Leeston. In the infancy of his career and as the sole medical personnel on scene for approximately 20 minutes, Jack had to make complex and challenging decisions. His sound judgement and ability to remain calm while treating patients that had injuries requiring specialist care was remarkable. Jack demonstrated leadership, compassion, empathy and direction to those that were so badly affected by this tragedy.
---
Canterbury Road Trauma Prevention Award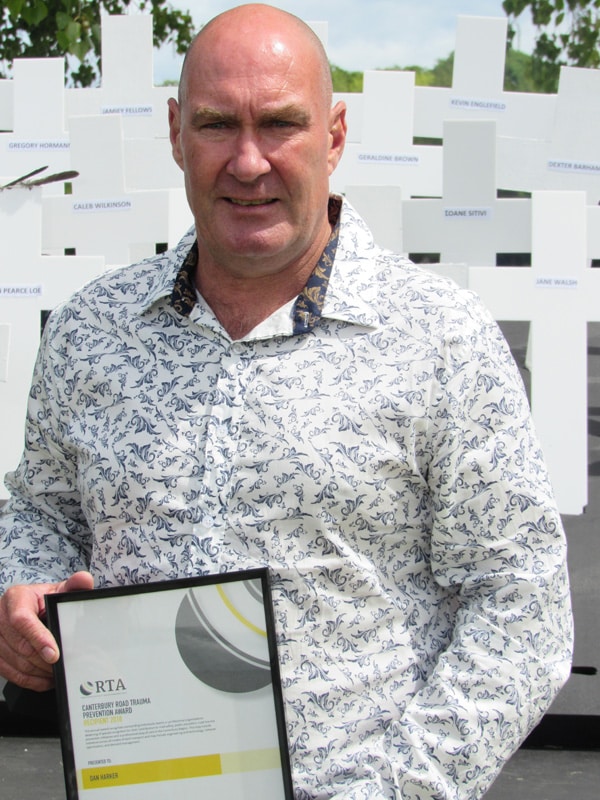 PREVENTION AWARD 2018 RECIPIENT: DAN HARKER
After 31 years of attending hundreds of serious and fatal crashes, Dan Harker decided that much more was needed to prevent crashes and save lives on New Zealand roads.
For Dan, the catalyst was an accident that happened in rural Canterbury back in 2014, where a motorist failed to see a stop sign and drove into another car, killing a mother, her 12-year-old daughter and her daughter's 12-year-old friend.
"Something's got to come from these tragedies, so I decided we needed to change the way we manage rural intersections and make our roads smarter and safer."
His search found an emerging international trend in the use of vehicle-activated warning lights. With no off-the-shelf solution, Harker used his Kiwi ingenuity to produce them himself.
These roadside mounted lights detect an oncoming vehicle and flash orange to alert the driver that they are approaching a junction. Powered through solar technology the signs are energy efficient and cost effective.
PREVENTION AWARD 2017 RECIPIENT: SENIOR SERGEANT KELLY LARSEN
Senior Sergeant Kelly Larsen of New Zealand Police was granted this Award by her merits in her role as Officer in Charge, Road Policing Operations for Canterbury.  Kelly has shown her commitment and dedication to improving the safety of those on our roads in the Canterbury Region by expanding the ˜Forbidden Driver Compliance Scheme' as well as developing and implementing ˜Operation Graduate' – an innovative response to driver licensing.
Kelly is passionate about ensuring Police interactions with drivers have a meaningful outcome; an outcome which improves driver decision making and behavior, thereby increasing the safety of all road users.
---
Canterbury Road Trauma Award for Community Service
AWARD FOR COMMUNITY SERVICE  2018 AWARD RECIPIENT: AMY IRONS
Dr Amy Irons was one of the first on the scene on what transpired to be a double fatality motor vehicle accident which involved two deceased English tourists colliding with a heavy motor vehicle at the intersection of Blakes Road and Shands Road, Christchurch on 15 February 2018.
"Dr Irons is a Doctor in emergency medicine and rendered first aid to the deceased. Dr Irons entered the deceased's vehicle and attempted to maintain an open airway of the female by reaching through from the backseat into the front.
While her efforts were unsuccessful, Dr Irons was assertive and willing to assist in very traumatic times" says Sergeant Grant Stewart, Canterbury Police. "The Canterbury Police would like to warmly congratulate Amy for being the recipient of the Canterbury Road Trauma Award for Community Service for 2018. Her initial actions at the scene of a double fatality motor vehicle crash in February 2018 were brave and professional and Amy is a very worthy recipient and should be proud of her actions."
"This nomination was unexpected, but I am grateful for the award. I believe that any person trained in health care would also contribute as best they could if they were in the same situation. I was appreciative of the help of an experienced police officer at the scene before other emergency services arrived. I cannot speak highly enough of the professionalism and care shown by police both at the scene and in the days afterwards. It takes a special type of person to be able to deal with these tragedies on a recurring basis; emergency services deserve our highest regard" says Amy Irons.
AWARD FOR COMMUNITY SERVICE  2017 AWARD RECIPIENT: KATRINA MARTIN
On 26 December 2016 Katrina Martin was the first on the scene at the serious crash in Leeston. Katrina demonstrated commitment of dedication to care to each person involved. Despite the triple fatalities she attended to the two survivors, ensuring they remained conscious and that no further injuries were sustained until the appropriate emergency services personnel arrived.