A Lifetime Achievement Award
2020 LIFETIME ACHIEVEMENT AWARD RECIPIENT: JOHN ISITT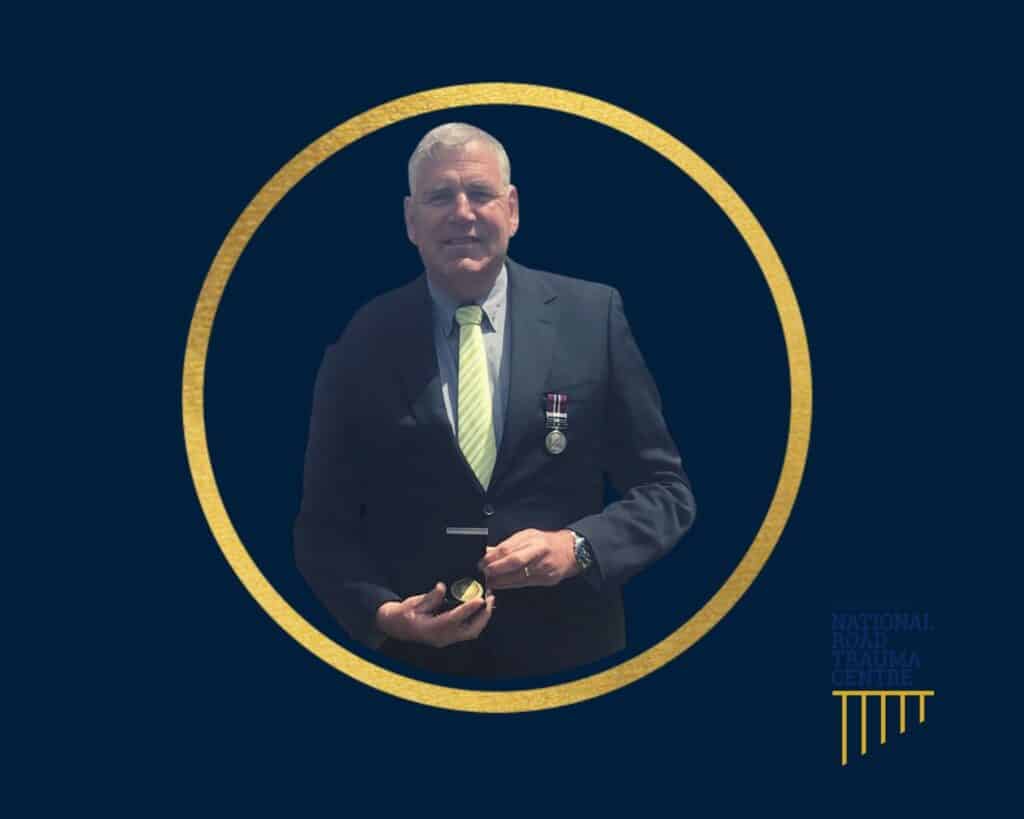 In 2020 John Isitt retired from his role as Sergeant, Serious Crash Unit at Canterbury Police and has been in traffic enforcement for over 33 years. In that time he attended in excess of 240 fatal motor vehicle crashes and a large number of serious and minor injury crashes. In the late 1980s John joined the Ministry of Transport and after approximately 5 years became a Police Officer in 1992, where he continued in specialise in traffic enforcement. In 2003 he joined the Serious Crash Unit and assisted in setting up their procedures, practices and reporting systems.
During his career John was committed to improving the attendance and reporting of crashes and instigated a number of ideas and improvements that have resulted in better liaison with local body roading authorities and New Zealand Transport Agency. This has seen a steady and continual improvement in the safety of our roads such as realigning corners, better marking at intersections or placement of safety barriers.
John also invested a significant amount of training and mentoring to Police colleagues in crash investigation along with new constables when they first arrive in the District and has been an instructor for crash investigation courses for more experienced Constables.
ROAD TRAUMA PREVENTION AWARD 2020 RECIPIENT: HELEN BICKERS, INTENSIVE CARE PARAMEDIC, ST JOHN
Helen Bickers is an Intensive Care Paramedic for St John in Christchurch. Helen has been with St John since 1994, becoming an Intensive Car Paramedic in 2011.
After attending crash after crash and seeing the devasting affects and aftermath, Helen thought about what could be done to change people's ways and help them be safer on the roads.
Helen now dedicates her spare time speaking to people from all walks of life, whether it is talking about 'a day in the life of a Paramedic' or motivating audiences to change their behaviors on the road through her experiences and the impact it has on her and her colleagues.
Helen works closely with the NZ Police on their Impaired Driving Education Programme (IDEP) for recidivist drunk drivers. She also works closely with Odyssey House on the Driving Change programme and programmes for recovering alcoholics, drug addicts, those that have been released from prison who are trying to reintegrate into the community. Helen listens to their stories, their goals and achievements, then shares herself and her story to show we are all the same.
Her approach to her audiences is emotional and impactful as she candidly explains the impact that impaired driving has on her personally.
Joseph Bradley and Kelly Phillips are the recipients of the 2020 Canterbury Road Trauma Award for Community Service.
On 5 November 2019 a single vehicle crash occurred at the intersection of Lehmans Road and River Road, Fernside, North Canterbury. The result of the crash was the tragic death of a six-year-old child who died as a result of the crash.
Shortly after the crash at approximately 4.15pm Joseph Bradley has been a passer-by and pulled over after seeing smoke and dust as a result of the crash and also being flagged down by persons who had already stopped. The crashed vehicle has been down a stop bank over River Road and has landed against a tree on its side.
When Bradley has arrived, he has observed the vehicle and noticed that flames are coming from the engine area and the smoke is filling the interior. Bradley realised he would need something to cut seatbelts and returned towards his vehicle where he has been met by another passer-by Kelly Phillips who has also stopped.
Bradley has instructed Phillips to obtain something that could cut a seatbelt and returned to the burning vehicle. Phillips and Bradley have then dragged the young child further to safety away from the burning vehicle.
On Bradley's return to the crashed vehicle he has noticed the a further person in the front passenger seat area observed his back was on fire, he has pulled open the passenger side front door and pulled this burning male from the vehicle and placed him on the ground a few metres away. They have ensured he was no longer alight and provided some reassurance.
They have risked their own safety in order to save the life of another. At a minimum they have reduced the severity of the front passengers injuries, which included severe burns to his body.
AWARD FOR COMMUNITY SERVICE 2020 RECIPIENTS: RAKAIA VOLUNTEER FIRE BRIGADE, FIRE AND EMERGENCY NEW ZEALAND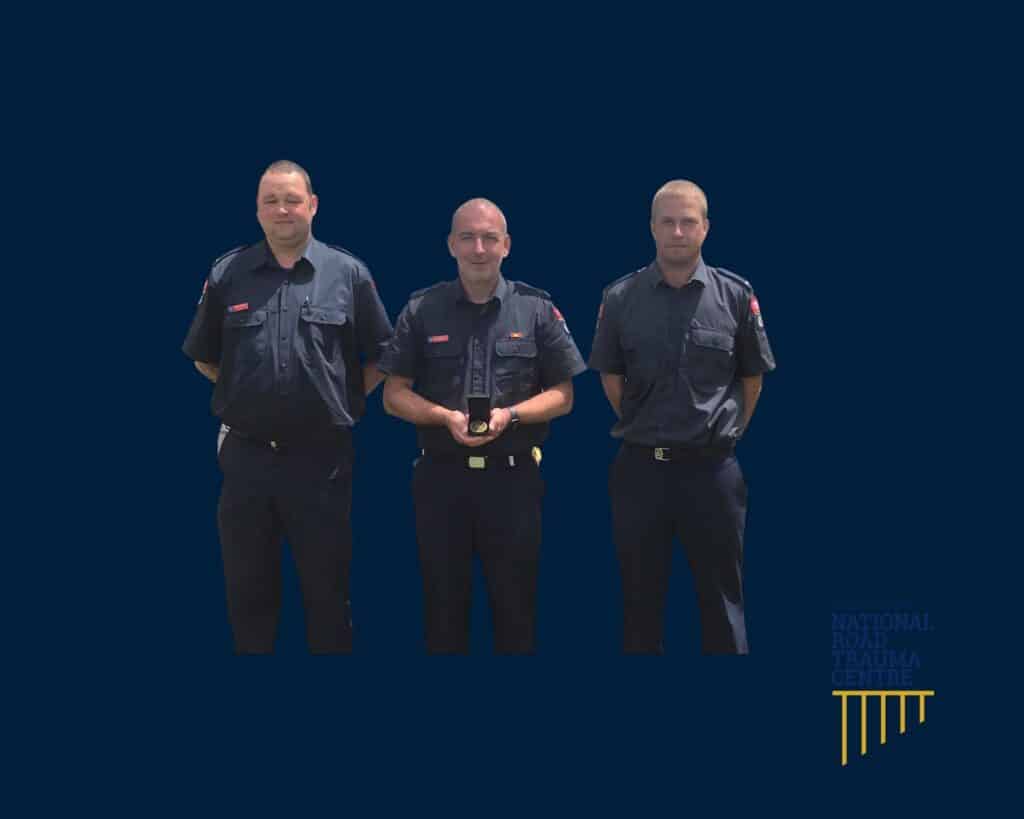 The Rakaia Volunteer Fire Brigade have attended to numerous near fatal accidents. The majority of these crashes have been on State Highway One between Dunsandel and Dromore where the nearest ambulance is approximately twenty minutes away.
Two of significance including on 21 June 2020 at 4.39am the Rakaia Volunteer Fire Brigade attended a multiple injury, near fatal crash on Bridge Street in the Rakaia Township where they were able to locate all (eight) of the occupants from a motor vehicle some of whom had been ejected from the vehicle. They provided medical attention for a range of injuries, two of which were life threatening, prior to ambulance staff arriving at the scene.
On 18 November 2016 at 5.22am the Rakaia Volunteer Fire Brigade attended a serious crash on the Rakaia Highway in Rakaia where the driver of a car suffered a traumatic amputation of his left arm. The Rakaia Volunteer Fire Brigade was able to stabilise the male prior to the arrival of the Canterbury West Coast Air Rescue Trust. On this occasion medical personnel on the helicopter commented that their actions saved his life.
In 2016 the Rakaia Volunteer Fire Brigade voluntarily sought sponsorship and fundraising activities to obtain a purpose built 2017 ISUZU 4WD, Medial Ute first response vehicle which is above and beyond their duties which has enhanced their capability to enable them to attend off road trauma incidents without committing their front line rescue tender. This has enabled the Rakaia Volunteer Fire Brigade to attend vehicle crashes and medical call outs simultaneously if required.
AWARD FOR PUBLIC SERVICE 2020 RECIPIENT: ANDREW HALL, NATIONAL PROGRAMME MANAGER, NEW ZEALAND SPINAL TRUST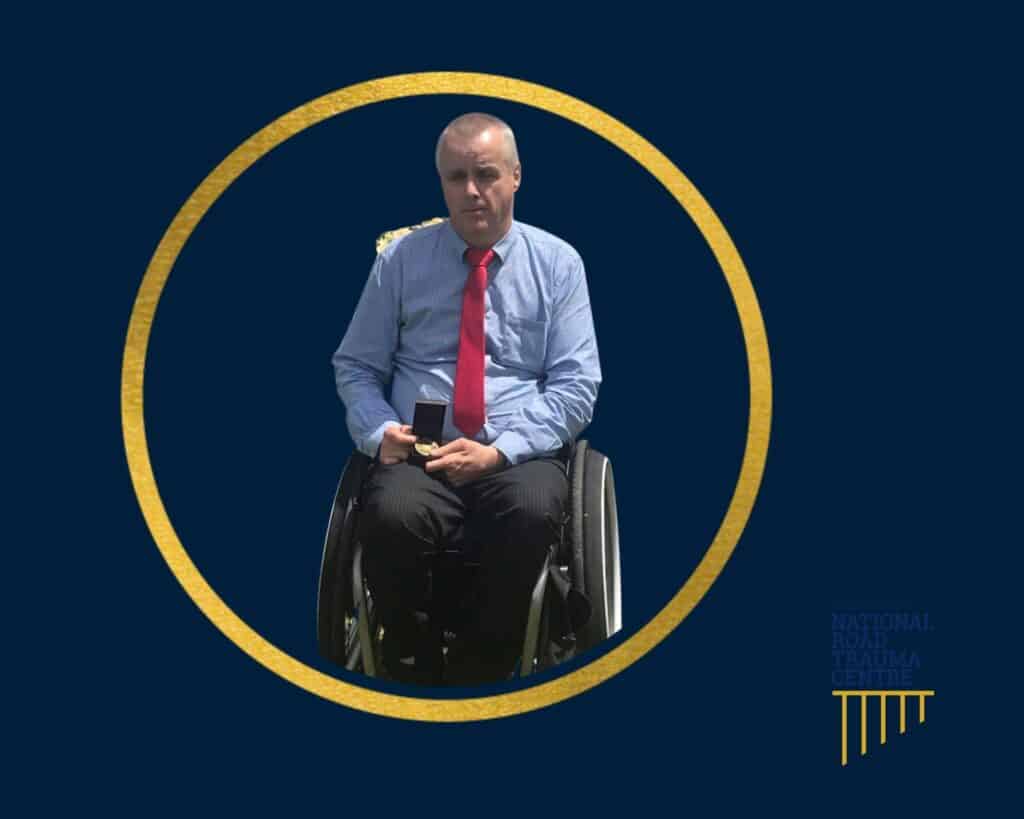 Andrew Hall is National Programme Manager for the New Zealand Spinal Trust managing both the Trust's Peer and Whānau Support team and Vocational Rehabilitation service.
Andrew has been associated with New Zealand Spinal Trust for almost 20 of the 26 years that he Trust has been in existence, including CEO, Board member and Board Chair. Andrew has always had a focus on helping those living with a spinal cord injury get back into a positive, fulfilling, rewarding life – regardless of any long-term limitations.
Andrew has his own lived experience of tetraplegia following an accident in 1983 that resulted in a broken neck.
Andrew has seen and supported many motor vehicle accident patients who have come through the Burwood Spinal Unit, especially at moments when one might consider their situation to be a fate worse than death.
AWARD FOR PUBLIC SERVICE 2020 RECIPIENT: SARAH BARHAM, CLINICAL MANAGER, LAURA FERGUSSON BRAIN INJURY TRUST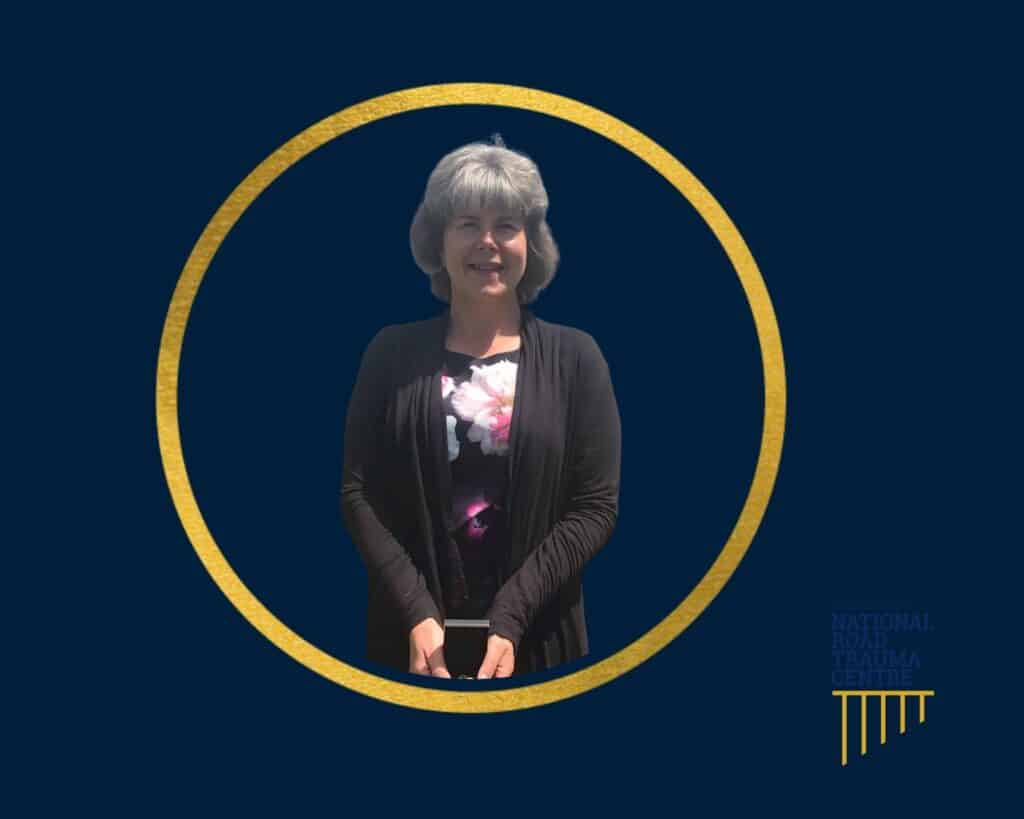 Sarah Barham is the Clinical Manager at the Laura Fergusson Brain Injury Trust. The Trust provides 24-hour residential support for people who have suffered traumatic brain injury.
Sarah has been employed at Laura Fergusson in 2007 and was recruited to implement change in a positive manner, ensure the clinical safety for the people we support and design care that was centred on patients unique and increasingly complex needs.
Over the past eight years, Sarah has grown her Registered Nursing team and fiercely advocates on behalf of our clients. Sarah demonstrates her long-term dedication and credibility in her trusted relationships with clients, families and whanau.
Sarah genuinely cares about each patient; she knows every client holistically including their pre -injury background, family situation, health and social needs and understands what it takes to enable ordinary life opportunities.
AWARD FOR PUBLIC SERVICE 2019 RECIPIENT: DR MARTIN SAGE, FORENSIC PATHOLOGIST
Dr Martin Sage, Forensic Pathologist of the Canterbury District Health Board is responsible for performing post-mortem investigations and reporting on traffic fatalities.
This involves reviewing the relationship between fatal traffic accidents and forensic medicine and helps form a better understanding of New Zealand's road toll; with a long term focus on harm reduction through community awareness.
Over his years working in this capacity, Martin has personally worked on over 2,000 cases of road traffic cases and has been exposed to extensive road traffic trauma. Martin's high level of respect for each case, and determination to find answers for families is vitally important to road traffic accidents in New Zealand. Findings and reports on road traffic accidents in Canterbury contribute significantly to the coroner's office making recommendations that can directly influence New Zealand's driving behaviours.
AWARD FOR PUBLIC SERVICE 2018 RECIPIENT : MEL EVANS, TRAUMA NURSE CO-ORDINATOR, CANTERBURY DISTRICT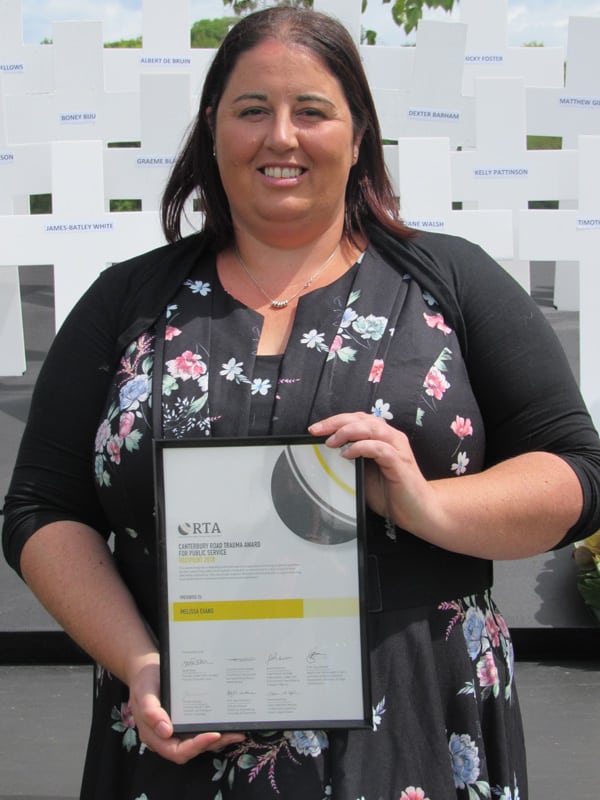 After carrying out a significant amount of data collection as Canterbury District Health Board's Trauma Nurse Coordinator, Mel Evans saw a greater need for a better coordination of care for the region's trauma patients.
"Mel discovered that many patients were suffering from multiple problems and they were being looked after by several different specialist teams. She took the initiative and set up a system that got the different departments talking to each other more, which has resulted in more efficient care for our patients," says Canterbury DHB Intensive Care Unit Specialist David Bowie.
Mel says she was pleasantly shocked to hear that she had been given an award for something she sees as part of her everyday role.
"I am very thankful that the work we are doing at Christchurch Hospital has been recognised, as it has led to our patients getting all of the treatment they require sooner and will help us continue to build a world class trauma service," says Mel.
AWARD FOR PUBLIC SERVICE 2017 RECIPIENT: JACK LOWERY, AMBULANCE OFFICER, ST JOHN
On 26 December, 2016, Jack Lowery responded to a triple fatality accident in Leeston. In the infancy of his career and as the sole medical personnel on scene for approximately 20 minutes, Jack had to make complex and challenging decisions. His sound judgement and ability to remain calm while treating patients that had injuries requiring specialist care was remarkable. Jack demonstrated leadership, compassion, empathy and direction to those that were so badly affected by this tragedy.
ROAD TRAUMA PREVENTION AWARD 2019 RECIPIENT: DR BRYAN PIDWERBESKY, TECHNICAL DIRECTOR, FULTON HOGAN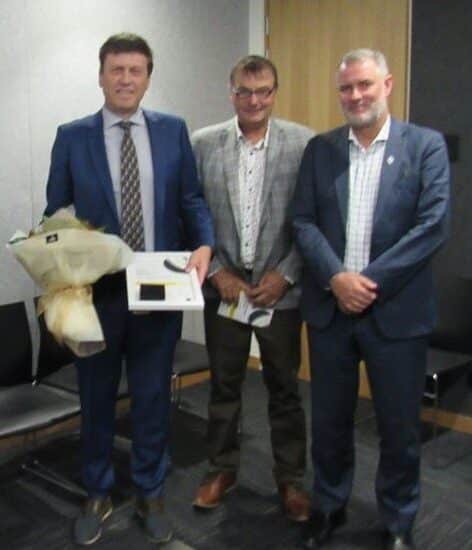 Dr Bryan Pidwerbesky, Technical Director of Fulton Hogan has spent more than 30 years helping highway authorities, industry associations and roading contractors, to increase the smoothness and skid resistance of roads, to reduce the frequency and severity of crashes and the associated trauma. He has developed a course on skid resistance that has been delivered to roading engineers around the country for 15 years. He was also heavily involved in advancing the use of high friction surfacing at locations with high crash rates and high friction demand.
ROAD TRAUMA PREVENTION AWARD 2019 RECIPIENT: SENIOR CONSTABLE BRENT COSGROVE, NEW ZEALAND POLICE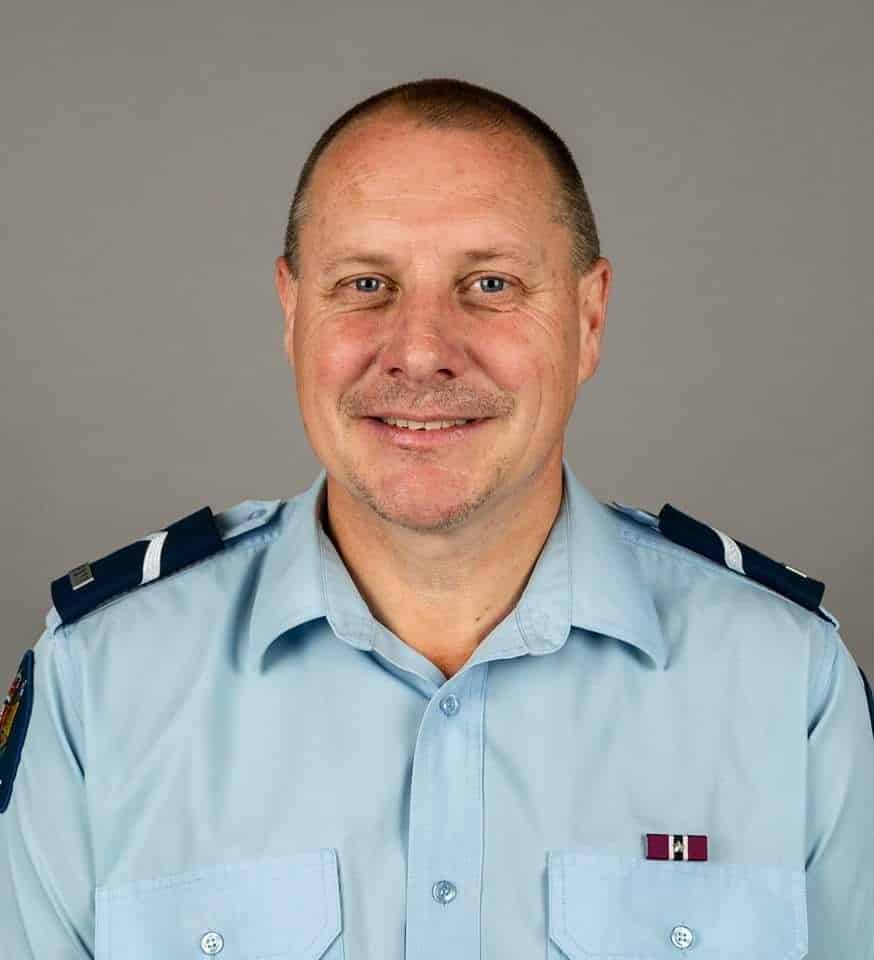 Senior Constable Brent Cosgrave has served with the Police for 27 years and has been involved in road policing for approximately 12 years, with 10 years working in the Impairment Prevention Team. Brent has been instrumental in the success of the road safety programme 'Crash Bash', which is a stage performance that tours secondary schools in Canterbury, and which is aimed at preventing road trauma through changing driver behaviour. Brent has played a significant role in the development of content and material for the script. He has effectively communicated key and factual information on young driver road safety risk in an engaging and relatable manner that students relate to and respect.
Unfortunately Senior Constable Cosgrove was unable to attend the Canterbury Road Trauma Awards ceremony, however, Inspector Ash Tabb, Head of Roading, Canterbury Police kindly accepted the Award on his
behalf.
ROAD TRAUMA PREVENTION AWARD 2018 RECIPIENT: DAN HARKER, DIRECTOR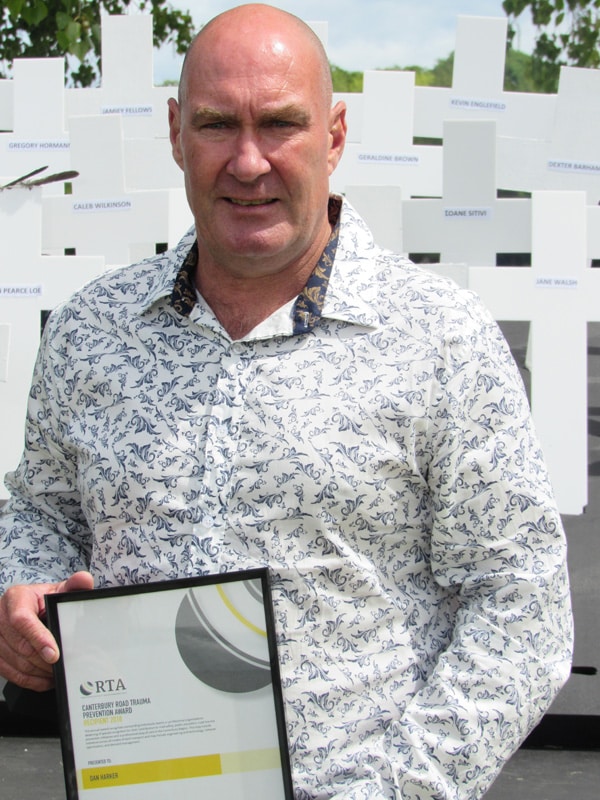 After 31 years of attending hundreds of serious and fatal crashes, Dan Harker decided that much more was needed to prevent crashes and save lives on New Zealand roads.
For Dan, the catalyst was an accident that happened in rural Canterbury back in 2014, where a motorist failed to see a stop sign and drove into another car, killing a mother, her 12-year-old daughter and her daughter's 12-year-old friend.
"Something's got to come from these tragedies, so I decided we needed to change the way we manage rural intersections and make our roads smarter and safer."
His search found an emerging international trend in the use of vehicle-activated warning lights. With no off-the-shelf solution, Harker used his Kiwi ingenuity to produce them himself.
These roadside mounted lights detect an oncoming vehicle and flash orange to alert the driver that they are approaching a junction. Powered through solar technology the signs are energy efficient and cost effective.
ROAD TRAUMA PREVENTION AWARD 2017 RECIPIENT: SENIOR SERGEANT KELLY LARSEN, NEW ZEALAND POLICE
Senior Sergeant Kelly Larsen of New Zealand Police was granted this Award by her merits in her role as Officer in Charge, Road Policing Operations for Canterbury. Kelly has shown her commitment and dedication to improving the safety of those on our roads in the Canterbury Region by expanding the ˜Forbidden Driver Compliance Scheme' as well as developing and implementing ˜Operation Graduate' – an innovative response to driver licensing.
Kelly is passionate about ensuring Police interactions with drivers have a meaningful outcome; an outcome which improves driver decision making and behavior, thereby increasing the safety of all road users.
AWARD FOR COMMUNITY SERVICE 2019 RECIPIENTS: WAIAU VOLUNTARY FIRE BRIGADE, FIRE AND EMERGENCY NEW ZEALAND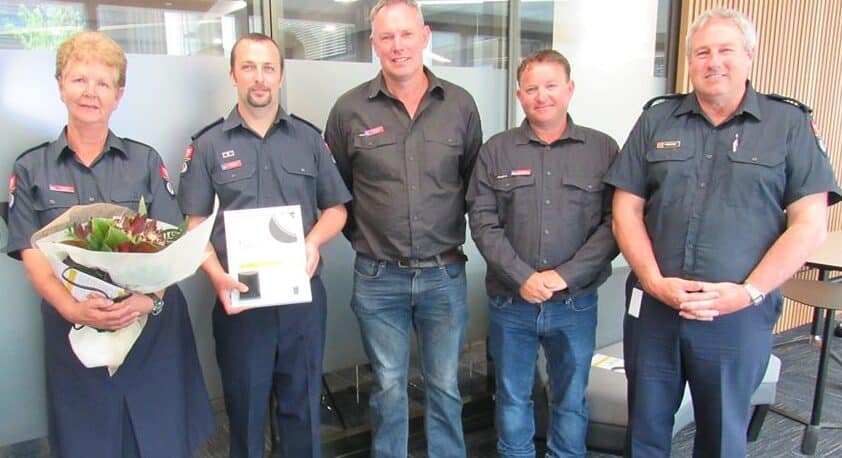 On 27 November 2018 eleven crew of the Waiau Voluntary Fire Brigade were dispatched as the first response to a serious road crash involving a motor vehicle accident on the rural inland road between Waiau and Kaikoura. On arrival the scene
presented with several challenges including a truck on its side with driver trapped and injured, chemicals present and road management required on a state highway.
This award was made to the Waiau Voluntary Fire Brigade for their exemplary skills and commitment they had demonstrated while caring as first-response service for their community. First responders have a key role in increasing the likelihood that people recover from road trauma.
AWARD FOR COMMUNITY SERVICE 2018 RECIPIENT: DR AMY IRONS
Dr Amy Irons was one of the first on the scene on what transpired to be a double fatality motor vehicle accident which involved two deceased English tourists colliding with a heavy motor vehicle at the intersection of Blakes Road and Shands Road, Christchurch on 15 February 2018.
"Dr Irons is a Doctor in emergency medicine and rendered first aid to the deceased. Dr Irons entered the deceased's vehicle and attempted to maintain an open airway of the female by reaching through from the backseat into the front.
While her efforts were unsuccessful, Dr Irons was assertive and willing to assist in very traumatic times" says Sergeant Grant Stewart, Canterbury Police. "The Canterbury Police would like to warmly congratulate Amy for being the recipient of the Canterbury Road Trauma Award for Community Service for 2018. Her initial actions at the scene of a double fatality motor vehicle crash in February 2018 were brave and professional and Amy is a very worthy recipient and should be proud of her actions."
"This nomination was unexpected, but I am grateful for the award. I believe that any person trained in health care would also contribute as best they could if they were in the same situation. I was appreciative of the help of an experienced police officer at the scene before other emergency services arrived. I cannot speak highly enough of the professionalism and care shown by police both at the scene and in the days afterwards. It takes a special type of person to be able to deal with these tragedies on a recurring basis; emergency services deserve our highest regard" says Amy Irons.
AWARD FOR COMMUNITY SERVICE 2017 RECIPIENT: KATRINA MARTIN
On 26 December 2016 Katrina Martin was the first on the scene at the serious crash in Leeston. Katrina demonstrated commitment of dedication to care to each person involved. Despite the triple fatalities she attended to the two survivors, ensuring they remained conscious and that no further injuries were sustained until the appropriate emergency services personnel arrived.