"Our mission is to reduce the number of road crashes and facilitate a patient centric care model that reduces the socio economic impact of road crashes in New Zealand. We will achieve this by working with the community and stakeholders to support a road system free of deaths, serious injuries and harm."
LATEST INFORMATION
---
NEW ZEALAND ROAD SAFETY WEEK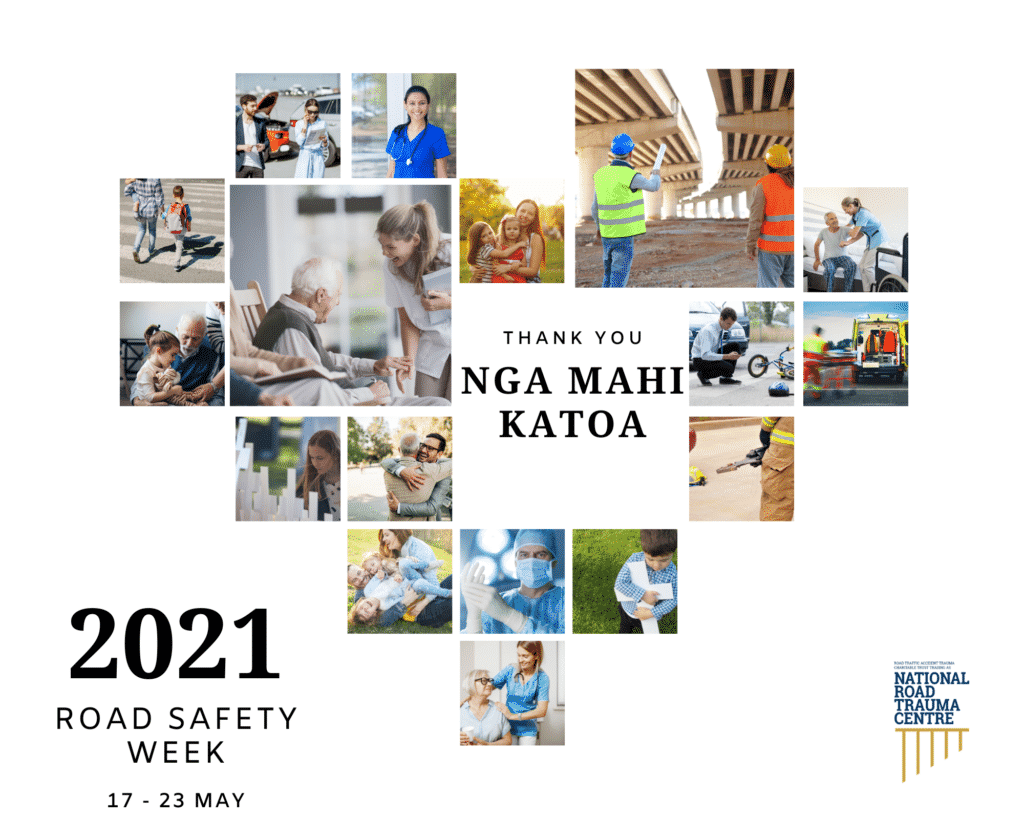 Today is the commencement of Road Safety Week (17 – 23 May), which is organised by the Brake Foundation.
We take a very collaborative approach to road safety, road trauma is a complex problem. We strongly believe greater public awareness and community education its paramount.
In healthcare, it is often, with early detection, awareness and intervention the effects of road trauma (physical and psychological injuries) are minimised and reduced – effectively 'zero harm' in New Zealand.
On behalf of the Trust we would also like to use this week to acknowledge those in the sector who work tiresley behind the scenes to prevent road trauma on our roads.
www.roadsafetyweek.org.nz
NEW ZEALAND GOVERNMENT ANNOUNCES HEALTH REFORM
On 21 April 2021 Minister of Health Andrew Little and Associate Minister of Health (Māori) Peeni Henare announced its new Health Reform which will place a greater emphasis on primary healthcare and ensuring fairer access for all New Zealanders.
All District Health Boards will be replaced by one national organisation, Health New Zealand.
A new Māori Health Authority will have the power to commission health services, monitor the state of Māori health and develop policy.
New Public Health Agency will be created.
Strengthened Ministry of Health will monitor performance and advise Government.
"We are going to put the emphasis squarely on primary and community healthcare and will do away with duplication and unnecessary bureaucracy between regions, so that our health workers can do what they do best – keep people well." Minister of Health, Andrew Little.
Major reforms will make healthcare accessible for all NZers | Beehive.govt.nz
HEALTH QUALITY AND SAFETY COMMISSION RELEASES REPORT ON EQUITY IN OUTCOMES FOLLOWING MAJOR TRAUMA AMONG HOSPITAL PATIENTS
On 19 April 2021 the Health and Quality Commission and its ninth Perioperative Mortality Review Committee (POMRC) released first of its kind research.
The POMRC chose to examine what factors impact on Māori and non-Māori mortality from major trauma. Its aims are to:
• analyse mortality following major trauma in Māori and non-Māori admitted to hospital
• investigate possible inequities
• identify areas of health care practice or policy that could be improved to address these inequities.
The Commission has examined whether Māori who were hospitalised for a life-threatening trauma – such as a car accidents, received equitable care and had the same survival rates as non-Māori. This is a health area that has not previously been comprehensively reviewed.
Report: POMRC ninth report (2021) FINAL (hqsc.govt.nz)
'Clear' inequity for Māori in health care – report | RNZ News
Health Quality & Safety Commission | Equity in outcomes following major trauma among hospitalised patients | Te taurite o ngā hua i muri mai i te whētuki nui ki waenga i ngā tūroro hōhipera (hqsc.govt.nz)
BOARD CHAIR VACANCY (NATIONAL)
For further information please view our current Vacancies.
Applications for our Board Chair vacancy close on 5.00pm on 30 June 2021.
For further information, please contact
Sarah Dean, Board Chair – Acting
Mobile: 027 324 0918 | Email: roadtraffictrauma@xtra.co.nz
Simon Ferry, Trustee
Mobile: 027 564 0089 | Email: simon.ferry@aon.com