UPDATE: 
On 30 October 2019 we received the devasating news that one of Ben Scott's very loved employees tragically passed away in a road crash on 29 October 2019.  Out of respect to Ben Scott and their team, the Trust, Reece McCaffrey, Event Organisers and Speakers felt it would be appropriate to post pone the event until the New Year. 
We would like to extend our heartfelt condolences to the staff at Benny's Barber Shop and Fyfa Dawson's family and friends.  It is a timely reminder to us all how precious life is.
Thank you to iTicket who have been so obliging in assisting us and will refund each person who has purchased tickets. If you have been deeply impacted by this news, we warmly encourage you to utilise the free counselling services provided by the Trust. 
We are  proud to host our first annual 'Men of Impact' event. This speaker evening gives you access to hearing from a group of motivational men who make a direct impact in their community. This is an amazing opportunity to learn about what it takes to get to success and everything that comes along the way.
All procceds will now go directly towards the work of the Trust.
Date: Tuesday, 5 November 2019
Time: 6.00pm – 7.30pm
Venue: Benny's Barber Shop, 101 Disraeli Street, Sydenham, Christchurch.
Tickets: $28.00 per person (incluing a free beverage on arrival and platters).
The Trust would like to personally thank:
Reece McCaffrey, Performance Coach for stepping up to being event organiser to being the main event organiser.
Ben Scott, Benny's Barber Shop for allowing us to host the event at his premises.
 Chucky Prauge, Video Testimonials for his expertise in video production and live-streaming.
The Trust would also like to thank many other people working behind the scenes to help make this event a great success. We have some truly exceptional people in our community.
"In my early 20's I lost a close friend to a motor vehicle accident. At the time and even still now, I find this hard to deal with.
As a young man, when the accident happened, I had so many questions around my friend's death. As a male, we are conditioned to toughen up and not express our feelings. I never had the tools to deal with my feelings/ thoughts and I wasn't aware that there was support available for people suffering from loss related to road trauma.
I really struggled to accept my friend was gone and I wish I had gone to therapy or counseling rather than suppressing my emotions and never really dealing with the grief. I look back now and think I was too young to understand the impact my friend's death would have on my life going forward.
I decided to help the Trust in hope that others will read this and realise there is help and support available for loved ones that are left behind following road accidents and also to create awareness around the heroes (emergency services/ responders) who risk their lives day in day out to assist with these horrific accidents.
These people are often in high stress, dangerous environments and the toll these accidents have on the service providers and their families is huge.
I think it is great we can reward the complexities involved in post crash care by our emergency services and that the Trust rewards unsung heroes through the Canterbury Road Trauma Awards.
I am hoping the power of social media will encourage everyday conversations about the impact of road trauma.
The speakers were chosen as young men of influence in the community, to share their stories and impact others. I'm really looking forward to getting up on stage and sharing my story to help others who could be in a similar position". Reece McCaffrey
"The Road Traffic Accident Trauma Charitable Trust has a strong focus on providing a platform for others to have a voice.  'Men of Impact' evening fits in with our philosophy of making an influential difference to the lives of others. Particularly men who often struggle to speak about their own personal experiences." Sarah Dean, Founder
Tickets are available through iTickets: http://www.iticket.co.nz/events/2019/nov/men-of-impact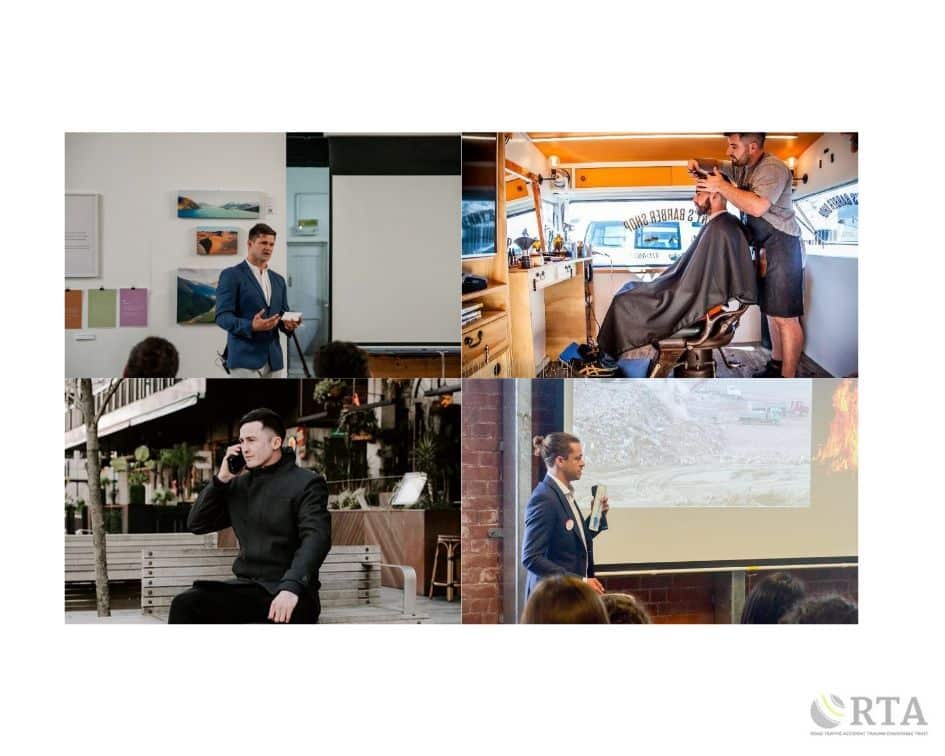 For further information  please contact event organiser Reece McCaffrey on 027 460 6313.